Vienna High School has four feeder grade school district all within Johnson County.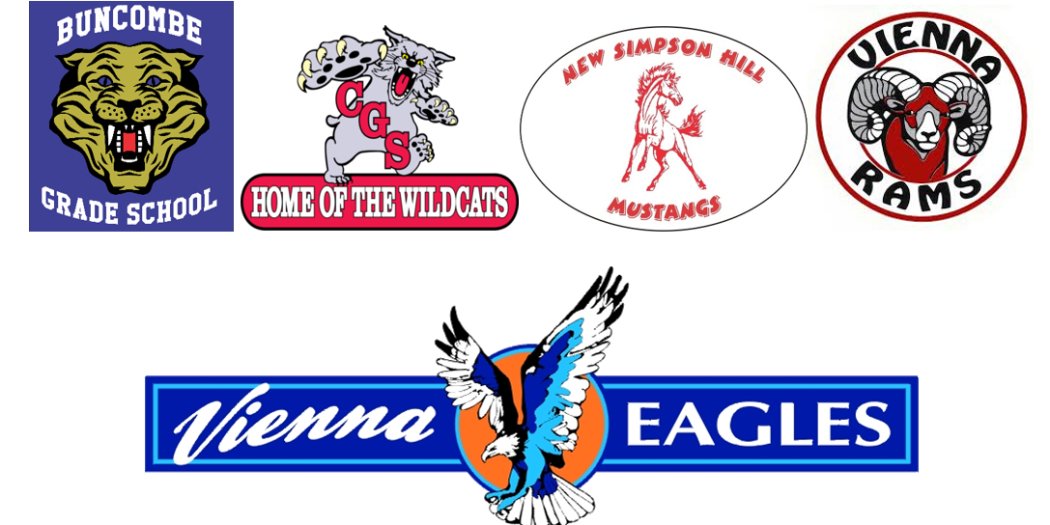 164 Main Street
Buncombe, Illinois
618-658-8830
Jamie Kerley, Administrator
New Simpson Hill Grade School
Past Schools in the District
The school system in Johnson County has a rich history. It has foundation that was originally built on 70 "one room school house" style buildings that were located throughout the entire county. That foundation now consisted of six consolidated school districts which include Buncombe Grade School, Cypress Grade School, New Simpson Hill Grade School, Vienna Grade School, and Vienna High School, all of which are in a dual district system, along with Goreville Grade and Goreville High School, which is a unit district.
Belknap

Buncombe High School

Cypress High School

Grantsburg

New Bunrside

Simpson
Vienna is excited to be partnering with Dongola to welcome Dongola freshmen and sophomore students to Vienna High School for full day instruction. Transition and change always come with some worry, difficulty, and unknowns, but we are committed to making this transition process centered on your needs and goals. While you will start to receive a great deal of communication from Vienna moving forward. If that communication is ever confusing and or doesn't answer your questions or meet your needs, please reach out. If you are unsure who to contact please simply email to Vienna High School and you will be connected with the best staff and or team to help.
The Vienna High School website has many resources to offer that give answers to many questions at your fingertips. Some main areas that you will want to check out include the calendar page, the resources page, and the login page. Each of these areas has valuable information.
The login page lists each of the systems that will be available to you. The standardized username and password was sent to you via mail and email. By using the login page, you can check your grades, attendance, schedule, course requests, and other information in Student Management. Eagle Apps (Google Apps) allows you to check your email, store your documents, and use a variety of other tools that have been made available for you.
Also, your parents will be able to sign up for a username and password to access Student Management by filling out the form found here Parents can also use the student's username and password.
Over the next few weeks, we will be working to collect information about you so that we can better understand your goals and individual elective classes that you are interested in along with determining class placements. We will also be connecting with those who have IEPs, 504s, medical plans, and various other needs to set up meetings to determine individual needs and how those needs can best be met.